{{cartModalRemovedTitle}}
{{cartModalRemovedParagraph}}
{{cartModalQuantityChangedParagraph}}

Guest Bedroom Refresh
With summer plans in motion, your once-lonely guest bedroom might be in need of a little refresh! This week, we're partnering with Megan from @ahouseinthesouth to bring you a few tips to get you ready for visitors again.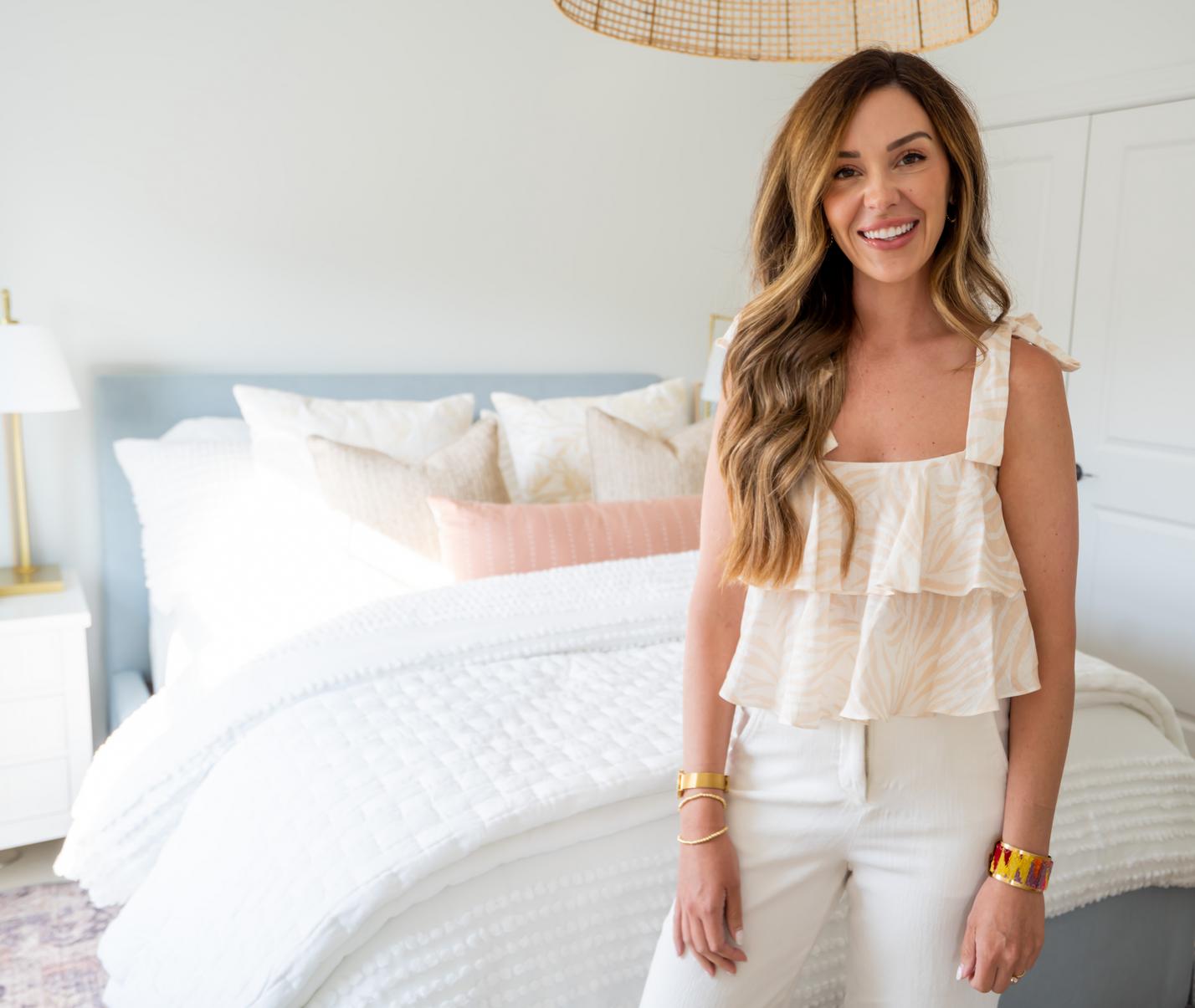 Fresh Linens
There's nothing better than getting into bed with soft, freshly laundered sheets and bedding! Megan suggests white bed linens for a fresh, crisp look. We love this set she found at Home Centric! Home Centric has a large selection of sheets, quilts, comforters, and duvet covers in various sizes so that no matter what size bedding you need, you're covered.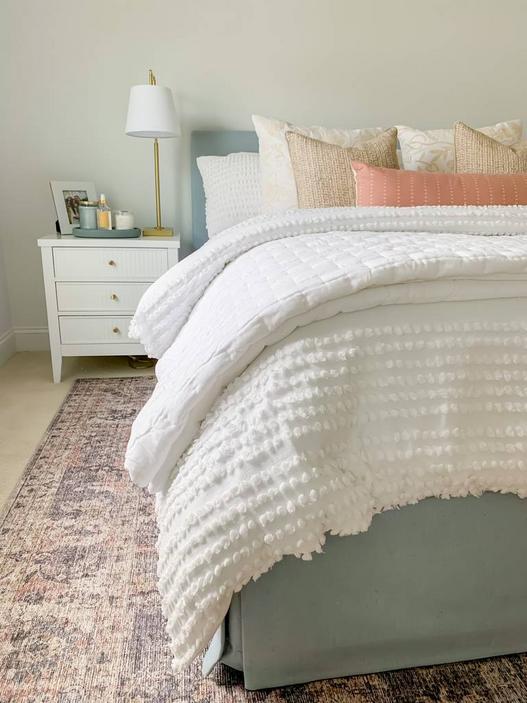 Small Touches for Big Comfort
Go a step further for your guests by anticipating what they may need during their stay. For example, print out your WiFi network name and password, and put it in a gorgeous frame like this one. Home Centric has so many affordable frames in various sizes that you can place one on a dresser for the WiFi password and another on the nightstand with a photograph of the visitors and you if you really want to go the extra mile!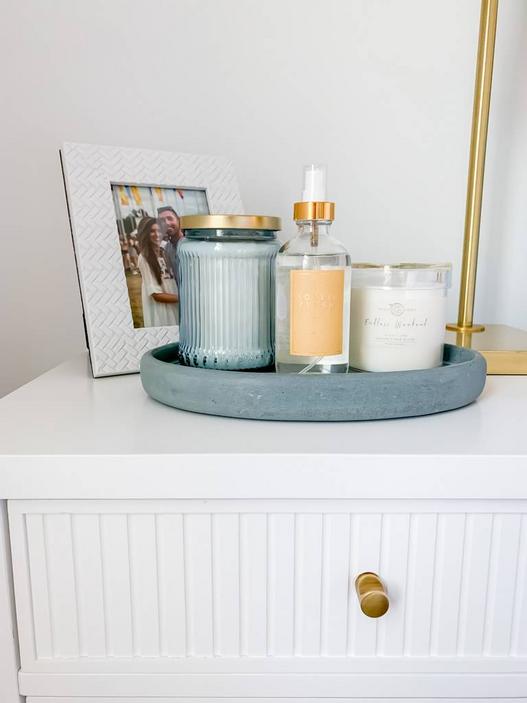 Having a small waste bin and extra blankets on hand is another often-overlooked touch that can go a long way. Megan used a basket she found at Home Centric to place a waste bin in it and it was the perfect fit! Being able to anticipate these needs is a great way to make any guest feel at home and shows that you really care about their comfort!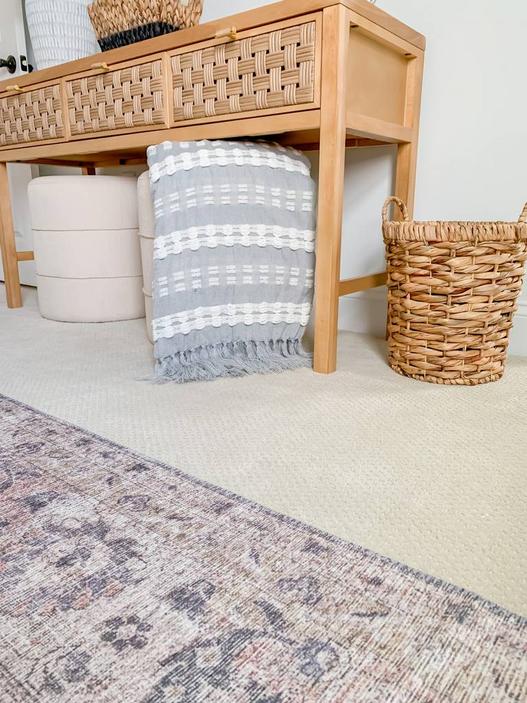 Calming Color Palette
Megan suggests a calming color palette in bedrooms because it has such a powerful effect on how people feel when they stay the night. When you choose a more comforting color scheme with colors like whites, creams, beiges, and blues, it creates a peaceful oasis where your guests can slow down and relax.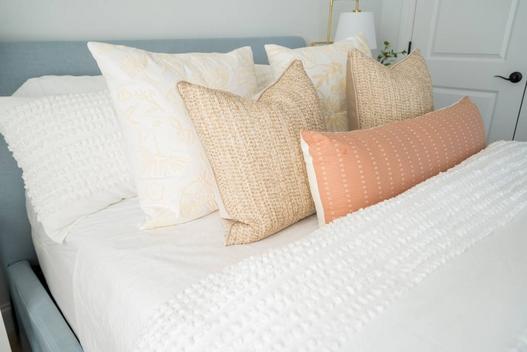 These gorgeous beige throw pillows from Home Centric really warm up all of the white and tie in some of the other colors in the room. They're down-filled, and the texture on them is such a great touch!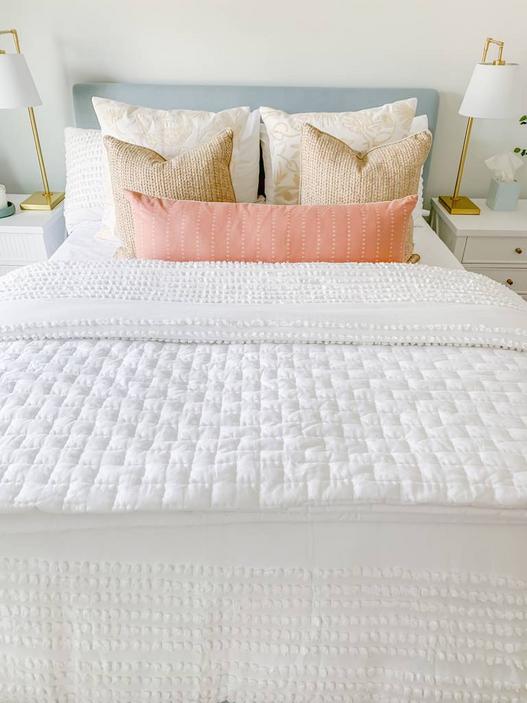 Accommodations
Go the extra mile by adding a small basket of goodies for visitors with things like chocolate, candy, energy bars and water. Having a few things for them to munch on or for when they get thirsty will score you extra brownie points with your guests.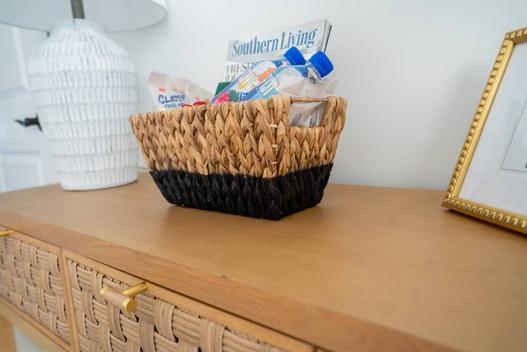 Megan picked up a bag of chocolate and orange slices from Home Centric to put in this basket (also from Home Centric!). You can find everything from cotton candy to fruit snacks to more savory snacks like peanuts and crackers. Add a magazine to complete this little snack basket, and you're all set!
Greenery or Florals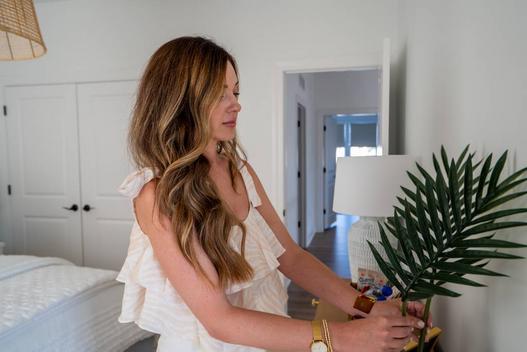 Adding greenery or florals to the room gives the space some life so that it doesn't feel stale and uninviting. For an otherwise neutral palette, adding pops of green is a natural, organic way to bring in some additional warmth. Home Centric has a great selection of faux trees, small plants, and floral arrangements, so you never have to forget this great finishing touch!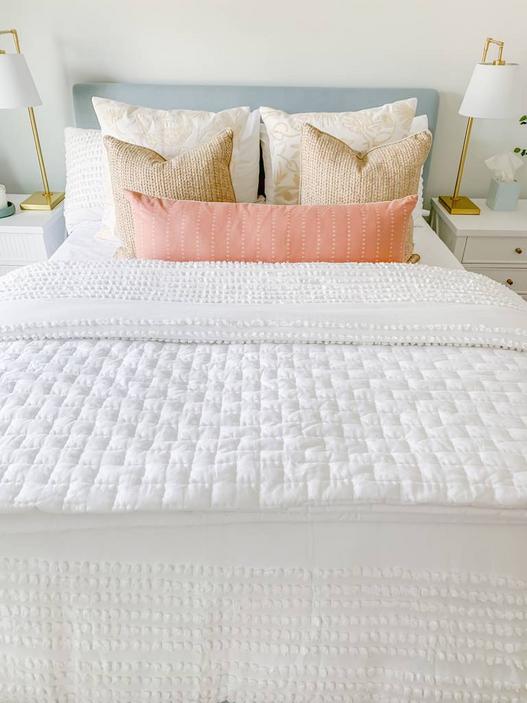 We hope this has inspired you to reimagine your guest bedroom to create a warm, welcoming space for your friends and loved ones! At Home Centric, we're all about inspired living for less. Check out our store locator to find your nearest store, and stay tuned each week for more fun tips!
Thank you to Megan from @ahouseinthesouth for partnering with us on this post.
X
Thank you for subscribing!
Look for exciting deals from Burkes to arrive soon.
Want to make shopping quick & easy?
Create an online account today.
Get access to your MORE rewards dashboard and for easier checkout online.
Click here to get started now.
X
Welcome Back!
Thanks again for subscribing.
Want to make shopping quick & easy?
Create an online account today.
Get access to your MORE rewards dashboard and for easier checkout online.
Click here to get started now.
X
We're sorry, we were unable to subscribe this email address at this time. Please try again later. If you continue to have issues, please contact our Customer Care Center at (800)683-8655 Mon-Sat 9am-9pm, Sun 10am-8pm.